The DSM IV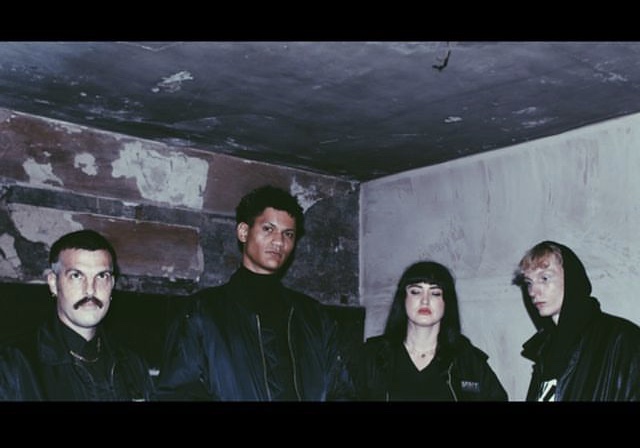 THE DSM IV are one of the most electrifying live bands of the moment! Supporting both Sleaford Mods & The Libertines across their French & European tours respectively, offered them a chance to hone their craft, spread their wings & bring their mesmeric performances to audiences, that responded with rabid enthusiasm.
Covid presented untold obstacles for everyone.
Spring 2023 is the release of their much anticipated debut album.
Playing incendiary shows in 2022 with the likes of WOOZE, Archfemmesis, Decius, Warm Duscher et al has proven a welcome opportunity for their own unique & inimitable cocktail of visceral music – electro beats, poetic rock n roll guitars, uncompromising storytelling & performance- woven into new anthems for those who love the real thing. If New Order, Pulp, Nick Cave & David Cronenberg formed a band whilst on Ecstasy at a Primal Scream show! Will appeal to fanz of Walt Disco, Priestgate, Depeche Mode, Grace Jones, Amyl n the sniffers, Viagra Boys, Nova Twins, Happy Mondays, Yard Act & the like.
---
Responsible Agent: Dana McDonald
Territory: UK + Europe
Tour Dates
Fri, Sept 22- London @ Shacklewell Arms  Buy Tickets
Wed, Oct 18- Hull @ The New Adelphi Club Buy Tickets
Thu, Oct 19- Sheffield @ Shakespeares  Buy Tickets
Fri. Oct 20- Liverpool @ 24 Kitchen Street  Buy Tickets
Sat, Oct 21- Chester @ Electric Church Records
Mon, Oct 23- Edinburgh @ Voodoo Rooms  Buy Tickets
Tue, Oct 24- Glasgow @ The Hug n' Pint Buy Tickets
Wed, Oct 25- Manchester @ Yes / The Pink Room Buy Tickets
Thu, Oct 26- Bristol @ Dareshack   Buy Tickets
Fri, Oct 27- Hebden Bridge @ The Trades Club  Buy Tickets
Sun, Oct 29- Nottingham @ Karma Weekender @Chameleon   Buy Tickets
Tue, Oct 31- Portsmouth ,Edge of the Wedge @The Wedgewood Rooms  Buy Tickets
Wed, Nov 1- Reading @ The Face Bar  Buy Tickets
Thu, Nov 2- Coventry @ The Tin Music and Arts  Buy Tickets
Sat. Nov 4- Brighton @ Mutations Fest / The Prince Albert 
Sun, Jan 13- Leeds @ The Old Woolen , Antenna Fest