Ruby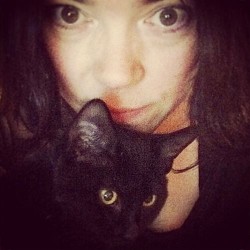 Lesley Rankine is Ruby.  She began her career as the lead singer of noise band Silverfish in London.  She was involved in Pigface, the loose knit industrial noise collaboration of Trent Reznor and Martin Atkins of PIL. She subsequently moved to Seattle to create her solo project, Ruby.
Ruby's first release was the acclaimed electronic-downtempo-trip hop album "Salt Peter", a classic of the mid '90's alternative & dance music scenes.  The album was recorded entirely digitally-still very innovative at that time. Salt Peter & the follow-up "Short-Staffed at the Gene Pool" were remixed by the likes of Primal Scream, Bench, Peshay, Gilles Peterson, Danny Saber, the Mekons, Mira Calix, Conor Oberst.
Among Lesley's other notable projects, a duet with Tom Jones on a cover of the "Kung Fu Fighting" for the Jackie Chan movie "Supercop", and a Pepsi commercial appearance singing "Thank Heaven for Little Girls", directed by Samuel Bayer, which premiered at the '97 Superbowl.
Ruby toured the US extensively throughout the 90's and early 00's.
Ruby live is Lesley and her brother, Scott Firth – who is also bass player for PIL. Live, they use a multitude of electronica including loopers, analogue synths, layered with live FX, samples and various odd gadgetry, with double bass and fuzz guitar.
Links
Website
Facebook
Twitter
Soundcloud
Bandcamp
Instagram
Upcoming Dates
n/a