Pigface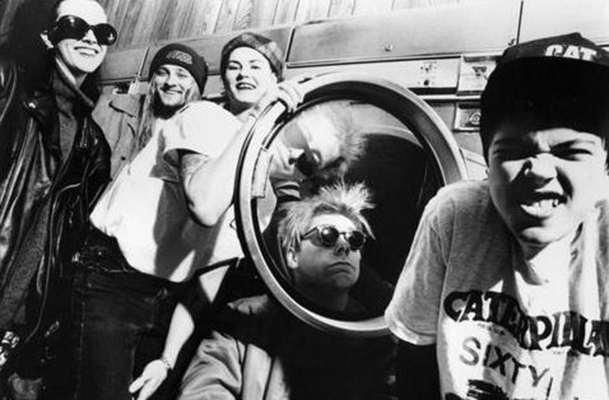 Pigface is an industrial rock group formed in 1990 by Martin Atkins and William Rieflin.
Pigface was formed from Ministry's The Mind Is A Terrible Thing To Taste tour, which produced the In Case You Didn't Feel Like Showing Up live album and video. For the tour, Al Jourgensen brought Atkins, Nivek Ogre and Chris Connelly. Also on the tour was Rieflin, regular Ministry drummer at the time. While Atkins enjoyed the dynamic of playing with a second drummer, he felt that the lineup was capable of doing much more than being, what he has frequently called, "a Ministry cover band." Once the tour was over, Atkins and Rieflin decided to continue working together and recruited several of their tourmates from the The Mind Is A Terrible Thing To Taste tour. Pigface was born with the intention of keeping a revolving-door style collaboration with many experimentally-minded musicians, many of whom, especially early on, had recorded for the influential industrial music record label Wax Trax!
Trent Reznor was also an early partner, before Nine Inch Nails became a household name. "Suck," co-written and sung by Reznor, was something of an underground hit, and Reznor later re-recorded the song for the Broken EP.
Rieflin eventually left Pigface, leaving Atkins in charge. The hundreds of musical collaborators to record and perform with Pigface have ensured that each album, and each song, is unique. However, this practice has led to some negative criticism due to a perceived lack of continuity.
Pigface concerts are characterized by high-energy performances. Frequently there will be upwards of 10 musicians on stage at any time during the show. In addition, members of the audience are occasionally invited on stage for the encore.
Hailed by some as "an aggressive new alternative-rock Frankenstein," Pigface grew to become a fierce juggernaut with a malleable line-up that could be as limited as the individual members personal phone books, or as packed with possibilities as the Yellow Pages. Egos where willingly surrendered for the greater good: the onstage fire-eater at a Pittsburgh show was just as important as the participation of then-fledgling Nine Inch Nails frontman Trent Reznor. Fans going to the shows expecting a rote regurgitation of the stuff found on the debut 1991 Pigface document, Gub, were left screaming and shaking their sweaty bodies in wild abandon, or scratching their heads down to skull-surface trying to make sense of it all.
At close inspection, its obvious that Pigface has become much more than the convenient, yet dubious tag of "super group." A strategy for the creation of uncompromising music, Pigface has been a farm team (belly dancer Christine Petro added some color to U2s PopMart tour), as well as a launch pad for underground mavens to reinvent themselves. The collective fostered the aesthetic growth of former Silverfish screamer Lesley Rankine (heard here on "Chickasaw", and "Ten Ground and Down") into the sultry grooves of Ruby. Ditto for the career of former Gaye Byker On Acid Mary Hoxley, who later ascended from "grebo" obscurity to British dance-rock royalty in Apollo 440. Pigface also acted as a rampart where established musicians-such as Tools Danny Carey and Red Hot Chili Peppers Michael "Flea" Balzary could stretch out in ways their parent bands would not let them. The communal spirit of the music was also enough of a force to make the music industry adjust its cloudy spectacles to take notice (reportedly, the last word in Skinny Puppy's American Recordings contract is "Pigface"). But don't think for a nanosecond that all that activity and accomplishment was only felt onstage in a self-congratulatory back-slapping marathon: Just prior to his signing to the nothing Records label, Marilyn Manson launched an ad hoc ensemble names Mrs. Scabtree, that featured other like-minded Ft. Lauderdale, Florida freaks. When pressed for details, Manson described the group as "a Pigface-kind of thing." Time has proven that Pigface was an idea that has ignited both musicians and audiences alike.
---
Responsible Agent: Andrew Harper
Territory: Worldwide