PIG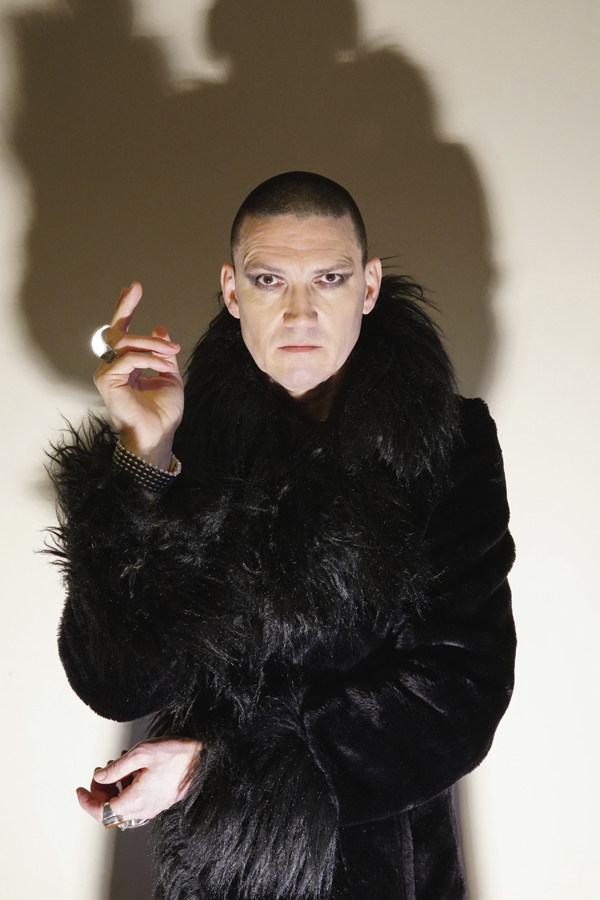 <PÎG> is Raymond Watts, a British musician whose brand of electronic rock is danceable and deadly serious in turn. Watts's words spring from the well of gallows humour in a world of corruscating cruelty and truth. <PÎG> climbs peaks and mines troughs, and musical genres slide and collide like tectonic plates.
In 1986 Raymond Watts awoke in West Berlin. It was a time of terror and turmoil, in a city so depraved and decadent that the East Germans had walled it in. Watts had cut his teeth on tape loops in London and Hamburg, but inspired by Berlin's fetid air and his first 8-bit sampler, Watts gave birth to <PÎG> in 1988, when <PÎG> was cut from his belly with a rusty screwdriver in a basement opposite The Wall. The first squeals were committed to tape, and saw the light of day as A Poke in the Eye. Wax Trax! jumped to release it.
A year earlier, in Hamburg, he was bludgeoning the first KMFDM album into shape with En Esch and Sascha Konietzko. He had also helped deliver the sonic slaughter of Einsturzende Neubauten, Psychic TV and most of the Berlin and Hamburg underground, as both live and studio sound engineer, and producer.
After writing the music for the second KMFDM album, Watts then slipped away to tour with Foetus, playing keyboards and guitar.
When The Wall collapsed, the party was over. Watts returned to London and <PÎG> albums poured forth: Praise the Lard, A Stroll in the Pork, Shit For Brains, Red Raw & Sore and The Swining. Watts programmed, produced and performed, ploughing a lone furrow until Karl Hyde, singer and sinner with Underworld, came to his assistance on guitars followed by Steve White.
Watts had also developed a taste for all things Japanese. His label was based there, his morals were parked there and <PÎG> had toured there many times. He was soon involved with a highly successful bunch of ne'er-do-wells called Schaft. Their album Switchblade, and a sold-out tour, followed.
In 1994, <PÎG> opened for NIN. This led to <PÎG>'s Sinsation album being released on Nothing Records — and then a return to Wax Trax! for Wrecked.
Watts also rejoined KMFDM in 1994, for the <PÎG> v KMFDM EP Sin, Sex & Salvation. On the ensuing album Nihil Watts resumed writing and vocal duties and several heaving tours followed, with Watts orchestrating the chaos from centre stage like a rampant ringmaster armed only with talent and tequila.
When not on tour, Watts could be found in his Ranch Apocalypse studios in London, working on <PÎG>'s No One Gets Out of Her Alive, Prime Evil, Disrupt Degrade & Devastate and the KMFDM albums Symbols, Attak and WW111. On the album Genuine American Monster, Watts reunited with legendary guitarist Guenter Schulz.
While in Toyko, Watts gave birth to the band Schwein with Sascha Konietzko and the Japanese musicians Sakurai and Imai. The albums Schweinstein, Son Of Schweinstein and a sold-out tour ensued.
After releasing the <PÎG> album Pigmartyr (Pigmata on Metropolis), Watts spent time in London indoctrinating his piglets and initiating them into the parish of the pork. When not leading his children down the path of righteousness, he could be found writing music for fashion and films for Alexander McQueen, Chloe, Marios Schwab, Halston, The Row and others. He also wrote music and did sound design for Punk: Chaos to Couture, the exhibition at the Met in New York.
In the final show before his death, Alexander McQueen commissioned Watts and John Gosling, Watts's old partner-in-crime from Psychic TV days, to embellish the serene instrumental track Inside, from <PÎG>'s Genuine American Monster album. This became the soundtrack to what is seen as McQueen's masterpiece, Plato's Atlantis. This show was reprised as the finale of Savage Beauty, the McQueen retrospective that broke all records at the Met in New York and the V&A in London. He also wrote other original music and did sound design for the show.
Last year, in 2015, <PÎG> dipped his trotter in the trough once more, and released both the much lauded <PÎG> v Primitive Race EP Long in the Tooth, and the Compound Eye Sessions: <PÎG> v MC Lord of the Flies (aka Marc Heal, of Cubanate).
The Primitive Race collaboration brought together Watts and Mark Thwaite, of The Mission, Tricky and Peter Murphy fame, amongst many others. Together they set about writing what would become the main column of misery around which the new <PÎG> album, The Gospel, has been built. Watts' newest partner in swine, Z. Marr of Combichrist fame, shared production and writing duties.
The new <PÎG> album, The Gospel, is a collection of twelve songs of ruin, redemption, resolution and resurrection. Across this tale of grime and punishment En Esch and Guenter Schulz leave their unmistakable trail of greasy fingerprints.
---
Responsible Agent: Andrew Harper
Territory: North America