Miranda Sex Garden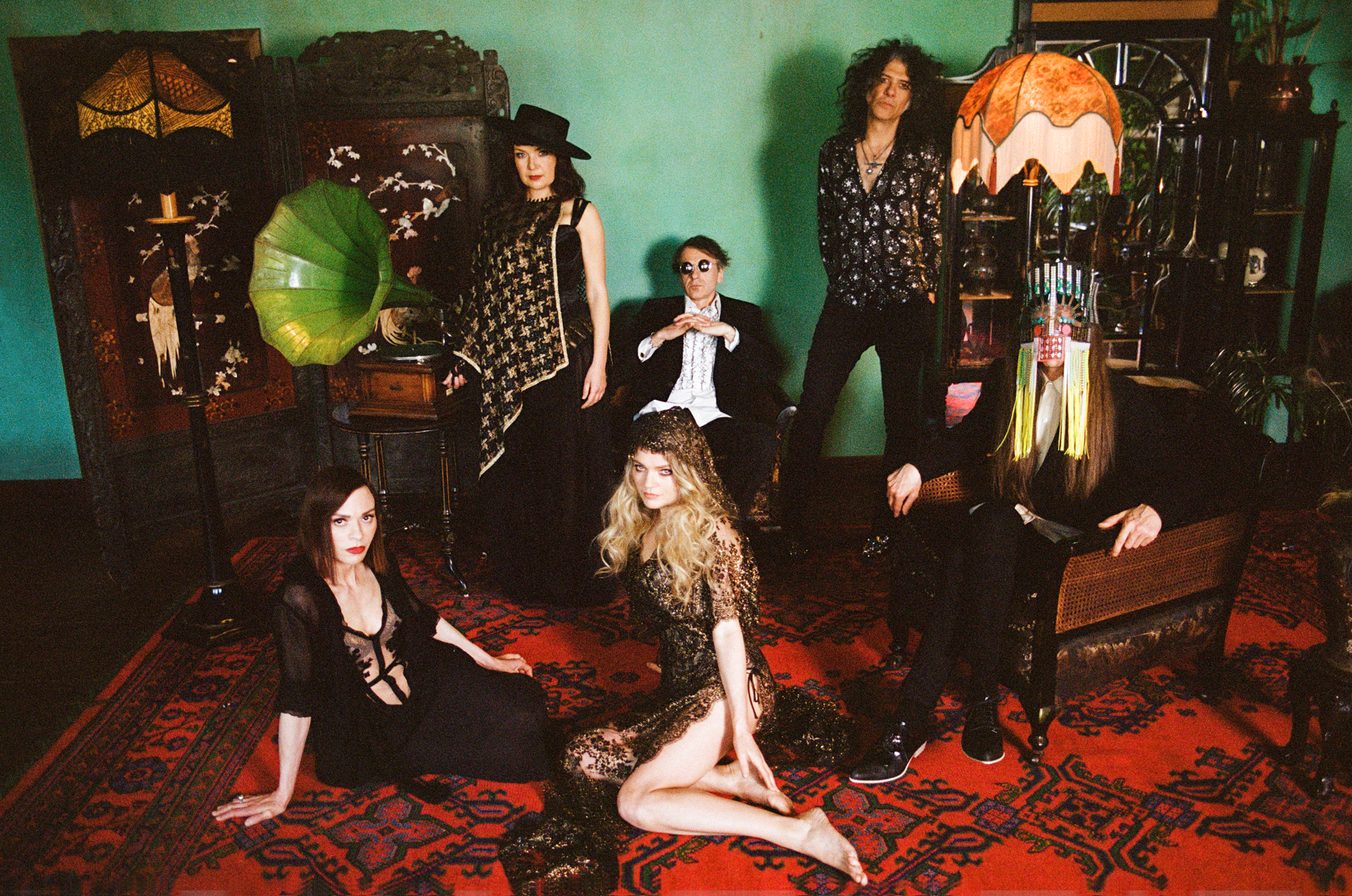 It all started when three girls from the Purcell School of Music got together for some serious madrigal busking. To those of an origin far from the white cliffs of Dover, a few things should be explained. The Purcell School of Music is a boarding school where children can study right from 5-6 year junior level through to taking their GCSEs (this one you'll need to Google). They teach a full curriculum but with a heavy emphasis on music. We're not talking High School Musical here, Purcell is serious business, classical music and some of the finest music students in the land. Oh yes and busking is when you go and sing in the street and hope for some kind souls to shower you with their loose change. In an interview with Stubble Magazine, Katharine Blake described busking like this: "Sometimes I think it's better there is a lot less bullshit you just get out there and do it. If people like it they throw money at you if they don't they tell you". Right, so back to the street and the three girls. They were Katharine Blake, Jocelyn West and Kelly McCusker, skilled in the use of a variety of instruments, but using only their voices to sing three part harmonies in the form of madrigals ("Elizabethan pop songs" as Jocelyn described them).
One day the girls were discovered by Barry Adamson, once a member of Nick Cave's Bad Seeds and at the time a successful solo artist doing music that either sounded like or was actually movie soundtracks. He was recording his album Delusion for Mute Records and decided to bring the girls into the studio to sing on the track Il Solitario. Incidentally Anita Lane also did guest vocals on this album and both her and Katharine would appear several years later on the Nick Cave And The Bad Seeds album Murder Ballads. Katharine and Jocelyn were also invited to sing on the single Heart On The Line from Fortran 5 (who used to be I Start Counting and later became Komputer), also with Mute Records. Needless to say, Mute liked them and before you could say G-Gush they had themselves a record deal and a name: Miranda Sex Garden. Mute being mainly an electronic music label couldn't help themselves, so they got Thrash from The Orb and Danny Rampling to remix their first single Gush Forth My Tears (Thrash's Interest At Source Mix being the one most people will remember and which I'll refer to as "the remix"). How do you remix an a capella 16th century madrigal? Well you add in some synths of course and layer those angelic voices over it. A very smart thing to do, considering the success of Enigma's first album the year before. Much later the group Gregorian would kind of turn this concept on the head by doing a Gregorian chant type cover of Fade To Grey. Then Mute shot a cool video too with the three girls running around in the woods. It was a hit. Not in a Top Of The Pops kind of way, but it was definitely a hit. Only problem was that the remixed version of Gush Forth My Tears, which sadly to this day is the only Miranda Sex Garden track that many people will remember, did not in any way represent the rest of the stuff that Katharine, Jocelyn and Kelly were doing. This was evident on their debut album Madra from 1991. It was full of madrigals and it was the real thing. The remix was not even included as a bonus! Standing up for their art, the girls played some hardcore madrigal gigs. There were good ones, such as TV appearances (TV studios are relatively safe) and not so good ones, such as when they were (bizarrely) given a support slot for Blur and all the girls who were boys who liked boys to be girls who did boys like they were girls who did girls like they were boys started hurling bottles at them.
Undeterred Miranda Sex Garden started writing the next chapter in their colourful story. Jocelyn West got married, moved to the US and recorded an album with the music of Hildegard von Bingen. New girl Donna McKevitt took her place. Also classically trained with a great voice and some mean viola skills, she couldn't have been a better fit. More unexpected was the addition to the band of Minty drummer Trevor Sharpe and sonic guitarist Ben Golomstock. Together they recorded the EP Iris in 1992, which remains a favourite among fans. Five tracks of uncompromising ambient dark alternative classical/rock crossover. Nothing less. Iris confused everyone. It confused those who only knew the remixed Gush Forth My Tears and it confused those who had listened to Madra. Most probably it scared the living daylights out of those Blur fans who'd been hurling bottles, worried that Iris was a way of summoning evil spirits to come and get them.
Following on from Iris, MSG released their next full album Suspiria in 1993. Named after an Italian horror movie classic and following on from where Iris left off, it was like some weird and wonderful flower exploding into full bloom. The single Sunshine became something of a hit in the alternative music world and was for years to come the song title that fans would be shouting out for at gigs. It was however the other single Play which truly showed what an extraordinary band MSG were. Impossible to classify and arguably not even a song, Play is one of the most powerful modern pieces of music that I have ever come across. It is however also the one MSG track that you should not play to someone who has never listened to MSG before. They will think that you are either deaf or having a laugh. Start them out on something more gentle and then throw Play at them later. They will literally not know what hit them. By this time MSG were quickly starting to establish themselves as a top live act. Man they were good! You would never think that a live version of Play could fail to disappoint compared to the recorded version. Surely they must have done at least 2769 takes before they got it right. Think again. MSG were in fact able to "create" Play live and make it even better than the recorded version. Trust me, I'm a doctor – and I heard it for myself. MSG also continued to collaborate with other bands, including the Balanescu Quartet and Nick Cave And The Bad Seeds, whom they also toured with, and they contributed music to the soundtrack for Derek Jarman's film Blue. It was his final film, released only a few months before he died of AIDS. It shows nothing but a blue screen throughout with narration by a small cast including Jarman himself and Tilda Swinton and music by a variety of musicians, including Brian Eno, Simon Fisher Turner and Miranda Sex Garden. The narration describes Jarman's experience of his declining health and the world as he sees it while slowly going blind. Donne McKevitt would later compose the song cycle Translucence with original music set to Jarman's poetry. In 1993, after the release of Suspiria, Kelly McCusker left MSG and the band was joined by Hepzibah Sessa, who would sing and play keyboard, viola and violin with them. They went on tour with Hole (Courtney Love) and with Depeche Mode as support on their Devotional tour. With The Mode they once again had the experience of fans throwing stuff at them. DM fans are notoriously hard to please (i.e. if it's not DM then It's No Good). Unfortunately this time the audience was in the thousands, but nevertheless MSG just threw stuff right back at them and carried on playing!
In 1994 MSG worked with Alex Hacke from Einstürzende Neubauten, the German godfathers of industrial, whom they had also toured with. He produced their third full album Fairytales of Slavery. Once again there was a drastic change in MSG's sound. It was a harder and more cold sound and the vocal harmonies were less prominent, pushing Katharine more firmly to the front as the band's vocalist. That's not to say that she didn't play a lot of instruments too. So did Ben, who was on guitar, keyboard, harmonium, glockenspiel and piano duty. F.M. Einheit from Einstürzende Neubauten chipped in with drills and stones on a couple of tracks. This was hardcore dude, this was an adult album! Just to remove any doubt, the first and only single from the album was called Peep Show and featured an artistically photographed naked lady, the image of which would also be used as artwork for a Miranda Sex Garden t-shirt that can still be seen in clubs to this day (dark ones). As a clever piece of PR for the single, MSG performed it live in the window of Tower Records in Piccadilly Circus. Once again I must explain to those who are not from London or maybe too young to remember: Tower Records in Piccadilly Circus was a massive record store from the days before downloads and streaming. Three floors of music with the most diverse selection you could possibly cram into that space and entry directly from the tube station. It later became a Virgin Megastore, which wasn't too bad and finally a Zavvi, which was – well – quite bad actually. MSG carried on with their relentless touring schedule, but without Hepzibah Sessa. On the tour with Depeche Mode she'd hooked up with Alan Wilder and before long they were married. The year after he would leave DM to focus on his long running side project Recoil, which Hepzibah has also been heavily involved with since.
In 1995 it was announced on Mute's Web site that MSG were recording a new album. They were still touring though, which was a little odd for a band that was supposed to be holed up in a studio somewhere. They also started appearing live without Donna McKevitt. Then suddenly they stopped appearing live altogether. What was going on? It turned out that they had parted ways with Mute Records and Donna McKevitt had left. Was it to be the end of MSG?
It has been implied in other biographies and various sources on the Web that MSG was only resurrected again in 1999 for the recording of Carnival Of Souls. This was in fact not the case at all. MSG never really went away, they just disappeared from the international scene, well in fact even from the national scene in the UK. However after a small hiatus, in which they found themselves a new violin player in Barney Hollington, they started doing gigs in London again. Not only that, but they sounded great again. Their live sound had eventually suffered from all the changes and there'd been a sense of frustration in the band. However the new MSG that emerged, also featuring Teresa Casella on bass and Mike Servant on keyboard were playing like a well oiled sex garden machine. They even started playing new material. In the meantime Katharine had formed The Mediaeval Baebes, Ben had formed The Naked Goat and Trevor would soon go on to form The Servant with two other ex-members of Minty. There were overlaps too. Barney also played in The Naked Goat and Teresa was one of the original Mediaeval Baebes. The cool thing was that with all these different projects going on, they could mix and match as support and headline in the same gigs – and they did.
In 1999, in an unexpected turn of events, MSG were given an opportunity to record a new album for SugarDaddy Records, a record label set up specifically for this release, but with ambitions to do more. This was made possible by someone who has described himself as "a mysterious male benefactor – the eponymous SugarDaddy" in a press release. You can find a link to it on the LINK page. MSG grabbed the opportunity and recorded Carnival of Souls, arguably their best and certainly their most coherent album. The line-up was the same that had been playing gigs for the last few years: Katharine, Ben, Trevor, Teresa, Barney and Mike. They were joined by, among other people, Nick Marsh on guitar and several Mediaeval Baebes doing backing vocals. In 2000 SugarDaddy Records released the album and the "double A-side" single Tonight/Sex Garden, which is now very rare. It was a rather curious single, which contained a shorter radio edit of the album track Tonight and two versions of the song Sex Garden, which did not actually appear on the album. Sex Garden was described as a dance track (probably a failed attempt to get some air play), which was rather misguided and as anyone listening to it will agree, actually not true. It was a nice little slice of psychedelia, but entirely overshadowed by the superior track Tonight. Carnival Of Souls was released in the US by Cleopatra later the same year. MSG also contributed one song to a Cleopatra compilation of Radiohead covers called Anyone Can Play Radiohead. The song was the much covered "Exit Music (For A Film)". Most of the covers did not live up to the quality of MSG's and the album sank like the Titanic. Luckily you can still get this little gem of a track on its own as a digital download and it deserves a place in any MSG fan's collection. You can get it through the EARS page.
Unfortunately only very few gigs were played in support of Carnival of Souls and it got little publicity outside the existing circle of fans. As it happens too often in a world where big record labels rule, this independent release of exceptional quality remained largely unnoticed by the masses. SugarDaddy Records folded and MSG went their separate ways without actually splitting up, each of the members diverting their attention to other projects. The Mediaeval Baebes were already very successful at this time and have continued to enjoy both commercial success and critical acclaim. The Servant achieved cult status in France. The Naked Goat played many memorable gigs, but never managed to record and release an album. They did try though and in 2006 some of these tracks were included on Ben Golomstock's album Stories From The Moon, where Katharine and Barney also appeared. On her 2007 solo album Midnight Flower, Katharine collaborated with Trevor, Mike and Donna McKevitt. Katharine can be seen heavily pregnant on the cover of the original edition (a later edition changed the cover art). She gave birth to a beautiful baby daughter and another one followed in 2009. The father is Nick Marsh, who played on Carnival of Souls and was also a member of Ben's The Naked Goat and The Urban Voodoo Machine. Barney Hollington was also a member of both Naked Goat and The Urban Voodoo Machine (still is) and Mike Servant has been part of Nick Marsh's live band performing his solo material. Katharine produced Nick's debut solo album A Universe Between Us and they have recorded an album together under the name From the Deep (expected to be released in 2015). In 2009 the eagerly awaited album Salt Bird from Jocelyn West appeared, a raw collection of songs all written by her and where she plays all the instruments. So although MSG have now been silent for a long time and they may remain so indefinitely, their spirit lives on in their various solo projects, all of which are highly worthwhile checking out. There is still much to look forward to for fans of this extraordinary band and the people who have been involved with it – this carnival of souls.
---
Responsible Agent: Dana McDonald
Territory: UK + Europe