Killing Joke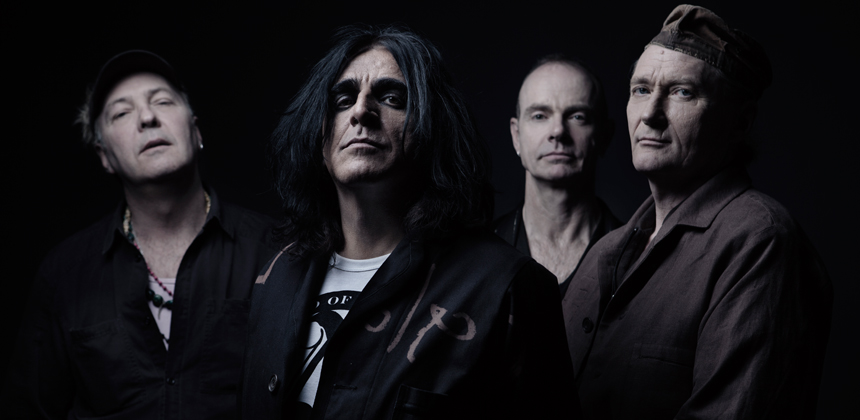 SOME BANDS exist beyond the circus.
Killing Joke celebrate their 35th anniversary in style, commencing in 2013 with the release of 'The Singles Collection 1979-2012' and a world tour starting in Europe. This important year will also see the band release a new studio album.
With a fierce intelligence plus a thirst for esoteric knowledge that matches a music that is visceral and almost spiritual in its primal spirit, Killing Joke are like no other band. This is a group who came out of punk and then set out on one of the most remarkable and idiosyncratic journeys ever.
The Singles Collection 1979 -2012, on Spinefarm/Universal, captures their ever-evolving story with a series of dark, apocalyptic songs. They have successfully combined disco and funk and a shamanic wisdom with the dark side of the punk fall-out.
Their influence has been enormous, with an unlikely roll-call of musicians taking their cues from the KJ catalogue – from Nirvana to most modern American metal to many DJs and dance music mavericks… few, however, coming close to the band's innate power.
Killing Joke, with their original line-up of Jaz Coleman, Geordie, Youth & Big Paul continuing to hold firm, will soon set about recording a third studio album for the Spinefarm label, with Youth once again grasping the production reins. The release date of this new studio album is likely to be late 2013
Coupled with this, is a career-spanning film, 'The Death And Resurrection Show' – part documentary and part celebration of this unique outfit, dealing with the myths and legends that swirl around their ever-evolving story.
Killing Joke's last studio album, 'MMXII' ('2012'), is a dense and dark work that manages to combine their trademark relentless guitars, pounding tribal funk rhythm section and dark & powerful message with moments of rare beauty. The Album's key themes are political, anti-capitalist and forward-looking…
'MMXII' is a work that captures many of the traits that marked them out, right from their inception in 1979 in Notting Hill, London, when they seemed to arrive fully formed with a sound that was totally original – the result of four very different, amorphous individuals combining into a whole.
When their original line-up of Jaz Coleman, Geordie, Youth & Big Paul reconvened in 2008 after working together intermittingly, that strange voodoo once again filled the room. Individually, they have a power, but together they have something sulphurous and strong that few alliances can match.
The classic line-up's extra-curricular activities that include conducting orchestras, producing multi- million selling acts and recording Arabic musicians are about as far away as you can get from the band themselves; but when they reconvene, something very different comes from these four distinct personalities.
Killing Joke are not an average band with an average agenda; they lock the door and let the ritual commence.
Anything can happen.
Frontman Jaz Coleman is a smart and quite dangerous individual who stares you in the eye and cackles the death-rattle cackle of a man whose wild and unfettered thinking is getting proven right as he marvels at his band's profound chemistry…
"Killing Joke is a dark and beautiful playground," he expounds. "It has the complete honesty of being able to say literally anything. It's an amoral place. There are no boundaries. We can see each other as we are, nothing is really planned."
In a time when the news is fast-forward and the planet seems to be descending into chaos, who better than Killing Joke to reflect this?
Jaz Coleman lives on a small island in the Pacific, three hours flight-time from New Zealand, where they have banned mobile phones because "the signals affect the bees". He conducts orchestras, and has been chosen as Composer In Residence for the European Union where he will be commissioned to write music for special occasions. He also records Arabic music in Cairo.
An intellectual on a dark and daring quest for The Truth, Coleman deals in both the esoteric and the straight-ahead. He is about the power of nature and the responsibility of the human race. His conversation is peppered with history, religion, philosophy, madness and ancient & modern theories of the beyond.
Killing Joke, for him, is not his only outside activity…
"It's a completely different thing to the classical entity. When I'm conducting, my mind is on fire, I have to anticipate everything; conducting orchestras is a more cerebral process, it's mathematical. With Killing Joke, you're trying to get into a state of frenzy.
"They are different mediums – they are both music, but that's where it ends. In terms of the two aspects of myself, one part is an individual, a hermit, and the other part a communist who likes to share music with people.
"Killing Joke is a collective and the classical side is one man's vision…"
The music Killing Joke create is an avalanche of sound that is empowering, whilst jolting you awake.
Killing Joke are as fascinating as chatting with Coleman, as he talks of future humans living forever but with no emotions, and of the Age Of Aquarius and the cycles of time, the shift in the earth's electro-magnetic field, the end of extreme capitalism, the Arab Spring and how his trips to Cairo to record music there have added to his belief that when Cairo falls everywhere else follows.
Clearly operating at a different speed, Coleman is lucky to have a band who don't just match this vision, but are very much equal parts of it…
"We talk about this stuff for days on end," he explains, adding, "when we make an album, we have no preconceptions of what we are going to sound like, and if we did, those preconceptions would be smashed to pieces very quickly."
Killing Joke are the only honest band left on the planet. If you want to know what now really sounds like, they have captured it with their tsunami of pure sound.
---
Responsible Agent: Joady Harper
Territory: North + South America