Heathen Apostles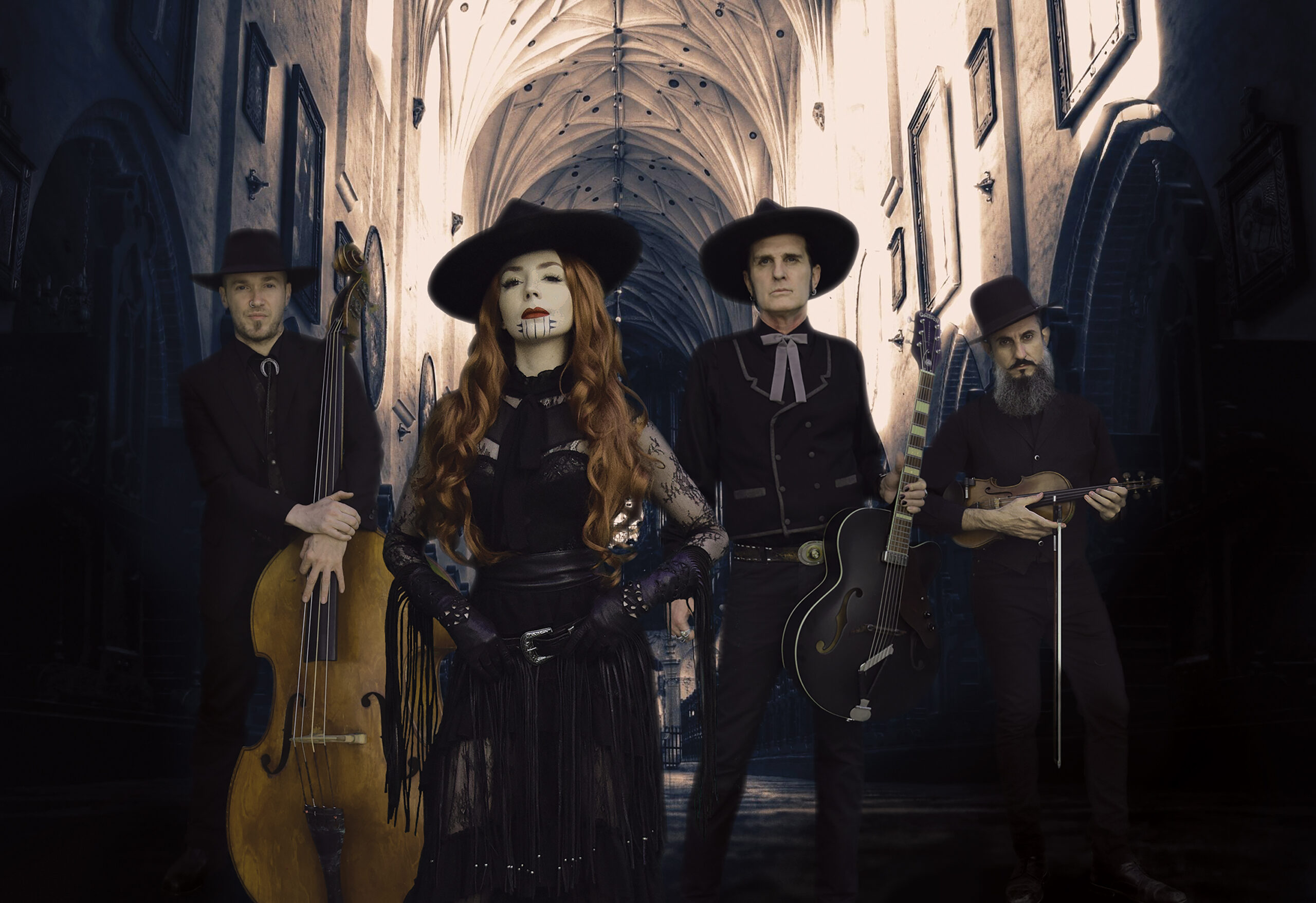 Born of the voices of past lives and baptized in the dust bowl dirt, the Gothic Americana music of the Heathen Apostles harkens back to a bygone chapter of American history. Using contrasting influences such as Bauhaus, Nick Cave & the Bad Seeds and The Pogues along with Howlin' Wolf, Loretta Lynn (the band covers her classic Fist City) and Bessie Smith, the Heathen Apostles have created a style of music that will conjure both angels and demons, and will enlighten a darkened soul.
Forming the band together in 2013, Mather Louth (Radio Noir) and rock n roll veteran Chopper Franklin (The Cramps, Mau Maus, Nick Curran & the Lowlifes) quickly uncovered a mutual appreciation for murder balladry, Americana, and memento mori. The landscape was further tilled with the addition of Thomas Lorioux (Kings of Nuthin', Legendary Shack Shakers) on bass and Luis Mascaro on violin.
Their 6 critically acclaimed albums, along with their many EPs and singles (their release The Fall was named Best EP of 2018 by Folk n Rock magazine), capture the essence of the Heathen Apostles modus operandi: Southern Gothic Americana imagery surrounded by haunting, minor-chord melodies, musical influences including Gothic Roots music, Bluegrass, Blues, and Gypsy Jazz, all deftly bound together by the band's dark and sometimes brooding sense of a bygone age.
Most recently, the band completed tours of both mainland Europe as well as the UK in support of their latest release, Bloodgrass Vol. 3&4, with plans to return in 2024 in support of their forthcoming album.
PRESS:
"If there is such a thing in the current fringe roots genre as a supergroup, it would certainly be the Los Angeles-based dark roots and alt-country band Heathen Apostles, whose participating artists include ex-members of Radio Noir (Mather Louth), The Cramps (Chopper Franklin), Kings of Nuthin' (Thomas Lorioux), and Christian Death (Stevyn Grey) in its ranks. That is one hell of a lineup. And their collective musical output is equally impressive." -James Carlson, The Examiner
"If you're familiar with the gritty western TV show Deadwood, you could imagine The Heathen Apostles as the ideal inhouse band for Al Swearengen's Gem Saloon." -Chris Broom, The Portsmouth News
"The crowd erupted in jubilant cheers as the Heathen Apostles, giants of Gothic Americana, took the stage. Under the sonic leadership of the completely mesmerizing Mather Louth, with her stirring vocals and rhythmic guitar, they came alive. They dominated the stage as if they were vampire outlaws in a confrontation that could only end one way. Their performance, laced with elements of the surreal and the mysterious, unraveled like a vividly illustrated Nathaniel Hawthorne poem, with each musician playing a key part. Chopper Franklin's fiendishly intricate guitar work, Thomas Lorioux's firm upright bass, and Luis Mascaro's evocative violin added a rich depth to their sound." – 1st 3 Magazine, London
---
Responsible Agent: Dana McDonald
Territory: UK + Europe
Tour Dates