Killing Joke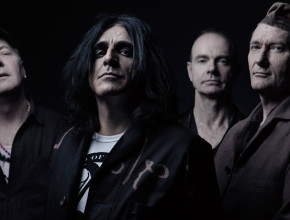 THINGS YOU MIGHT NOT KNOW ABOUT KILLING JOKE
1. Singer Jaz Coleman was born in Cheltenham to a high-caste Bengali mother and an English Father. He was a distinguished violinist and a choirboy as a child.
2. Jaz fled to Iceland in 1982 believing that the apocalypse was imminent. He has since lived in Leipzig, Cairo, Tahiti, Budapest, Switzerland and New Zealand. He claims to hold four passports.
3. Killing Joke's bassist Youth once tried to start a fight with journalist Paul Morley after a bad review. "Luckily he was so drunk that he slipped on some beer and fell to the floor", says Morley.
4. Youth's baffling list of credits as s producer includes Marilyn Manson, Tom Jones, Bananarama, Blue Nile, James, Crowded House, PJ Harvey, The Verve, Nick Cave, U2, Axl Rose and Paul McCartney.
5. After noting similarities between Killing Joke's "Eighties" and Nirvana's "Come As You Are", KJ started legal action but dropped it after Kurt Cobain's death. Jaz has since guested with Foo Fighters, while Dave Grohl was drummer on KJ's 2003 album, which was produced by Gang Of Four's Andy Gill.
6. Other bands who've cited KJ as an influence include The Cult, Pearl Jam, Faith No More, Nine Inch Nails, Ministry, Skinny Puppy, Metallica, Soundgarden and even Kate Bush. The Darkness attended a recent KJ show in Camden, KLF's Bill Drummond tried to join KJ after Jaz fled to Iceland and The Orb's Alex Patterson was a KJ roadie.
7. KJ used to be joined on stage by a fire eater. His name was Dave The Wizard. "Fire is symbolic of the will to power," declared Jaz
8. Legendary East German conductor Klaus Tennstedt described Jaz Coleman as :the new Mahler". Jaz was composer-in-residence for the New Zealand Symphony Orchestra, and has written for the LSO, the Budapest Symphony Orchestra and the Czech Philharmonic, as well as working with Nigel Kennedy, Anne Dudley and Sarah Brightman
9. Jaz's brother Piers is a professor of theoretical physics at Rutgers University in New Jersey. In 2003 Piers and Jaz were commissioned to write "Music Of The Quantum", a piece uniting art, mysticism and science.
Links
Website
Facebook
Twitter
YouTube
iTunes
Upcoming Dates
n/a