Har Mar Superstar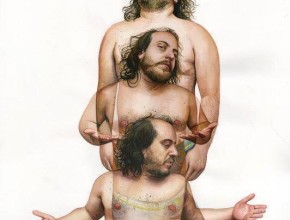 Bye Bye 17, the new album from acclaimed singer, songwriter and performer Har Mar Superstar (aka Sean Tillmann), is out now on Cult Records. Already receiving widespread critical praise, BULLETT calls the album, "impossibly groovy and infectious," while KCRW asserts, "I'd call the album a guilty pleasure but I don't feel guilty at all. It's just packed full of hooks." Additionally, of the album's first single, "Lady, You Shot Me," Death + Taxes declares, "Har Mar Superstar returns with the song of his career," while MTV Buzzworthy calls it a "Buzzworthy Obsession."
Of asking him to join the label, Cult Records founder Julian Casablancas notes, "First time I saw Sean was at the Mercury Lounge years back, and I was blown away by his voice, his confidence and his showmanship. When he recently played me his new record, I felt it was something we could help make truly great. He's the man with the golden voice, and we're excited to try and turn people on to that fact… Like the dude himself, the record's just tough, sad, hilarious and rad."
Written in New York City, the 10-song album was recorded at co-producer Jim Eno's (Spoon) Austin studio with a full live band. Focusing this time more on his voice, Tillmann says, "I was listening to a lot of Otis Redding and Sam Cooke at the time, and I've always been obsessed with those guys… 'Restless Leg,' 'We Don't Sleep,' 'Prisoner' and 'Rhythm Bruises' came out of people playing together. But the rest were just like me in a room, gettin' weird, by myself."
Tillmann named his flamboyant alter-ego after the Har Mar mall in suburban St. Paul, MN where he spent his youth watching movies and writing songs about passers-by in the food court. Tillman explains, "Har Mar Superstar used to be a different person. It used to be my excuse to get away with the more fantastic things in life… It was easier to get onstage as this other guy and be outrageous and have it be glorified. I guess the confidence I got from being Har Mar Superstar translated into my real life, so now we're one and the same."
Bye Bye 17 was an eye-opener to the music world, not that Tillmann wasn't used to accolades through his former work with Sean Na Na, Gayngs, Neon Neon, and Calvin Krime. Sean had "arrived as a songwriter." After living in LA and NYC for 12 years, Sean moved back to Minneapolis, MN, where he is most creative. With the help of Chris Bierden (Poliça, Bye Bye 17), Ryan McMahon (Har Mar, Lizzo), Matt Sweeney (Chavez, Adele, Neil Diamond, Johnny Cash, Cat Stevens), and Ryan Olson (Poliça, Marijuana Deathsquads), Har Mar Superstar's album Best Summer Ever was born.
Best Summer Ever, since its inception, has been imagined as a "Greatest Hits of Har Mar Superstar from 1950-1985." Tillmann was born in 1978. Wrap your head around that, please.
Best Summer Ever is a slow burner with many ballads, dance-able tracks, and co-writes. Long-time friend Julian Casablancas (Cult Records founder, The Strokes), Shawn Everett (Alabama Shakes, Erykah Badu, Voidz, Weezer), and Tillmann worked very closely to make the concept happen. Karen O, Matt Sweeney, and James Levy (Reputante, Lolawolf) all helped write songs on the record. Bobby Charles wrote "I Hope." "Youth Without Love" was a demo written by Julian that was sitting around that Har Mar fell in love with, so they made it for the record.
Look out for Har Mar Superstar, now fronting a six-piece band — complete with horns — touring worldwide this year. The live show has always been a fun, sweat-soaked celebration of joy. The man was born to rock a stage. Join the party.
Don't fake your love.
Links