The Chameleons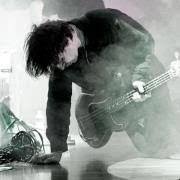 As bass player, singer and songwriter in iconic post-punk outfit The Chameleons, Mark Burgess can lay claim to having influenced a multitude of artists worldwide. Previously cited by the likes of Interpol, Editors and The National, The Chameleons might not have enjoyed the same levels of commercial success as some of their peers but the band's legacy lives on.
Having formed in 1981 only to split in 1987 before briefly reforming in 2000, the Mancunian four-piece left behind a flawless back catalogue including three of the most pioneering long players of the post-punk era in Script Of The Bridge, What Does Anything Mean? Basically and Strange Times.
Soon after their initial parting of ways, Burgess formed The Sun And The Moon, releasing a well-received self-titled album in 1988. Since then, he's put out records as Mark Burgess & the Sons Of God as well as embarking on various collaborations such as Invincible (with Yves Altana) and Black Swan Lane (with Jack Sobel and John Kolbeck). Having briefly reunited The Sun And The Moon in 2008, he joined forces with original Chameleons drummer John Lever the following year, putting together Chameleons Vox. With the band's sets largely focusing on Chameleons material, the flame has been reignited somewhat. Several line-up changes later – Lever is no longer involved in the project – Chameleons Vox are about to hit the road again, touring The Chameleons seminal debut Script Of The Bridge throughout the month of May.
LINKS
Website
Facebook
Spotify